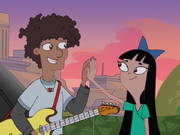 This page is about the romantic interest between Stacy Hirano and Coltrane.
Hints
In the canon episode, "The Best Lazy Day Ever", they smiled at each other during the "Do Nothing Day" song.
In "The Baljeatles", they danced together during the song "Give Me A Grade", and held hands later on. Also, Coltrane said he would teach Stacy how to play the bass guitar.
Stacy and Coltrane are boyfriend and girlfriend on The Stacy Hirano Show.
They broke up in an episode of "Carl: College Years"
Shippers
Please add your name if you ship.
Ad blocker interference detected!
Wikia is a free-to-use site that makes money from advertising. We have a modified experience for viewers using ad blockers

Wikia is not accessible if you've made further modifications. Remove the custom ad blocker rule(s) and the page will load as expected.