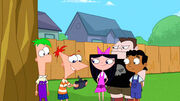 A sneek peek on Season 26!
Season 25 Special

An episode scene

Season

25

Episode

5

Air Date

October 2

Written and Directed by

Previous Episode

Next Episode
Short Episode Summary
Basiclly the Season 26 episode New Baby! and Ragedee Ana put together into one.
See Songs, Running Gags, Goofs etc. in the articles shown above.
Ad blocker interference detected!
Wikia is a free-to-use site that makes money from advertising. We have a modified experience for viewers using ad blockers

Wikia is not accessible if you've made further modifications. Remove the custom ad blocker rule(s) and the page will load as expected.