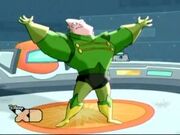 Rubber Duck Perry

An episode scene

Season

25

Episode

7

Air Date

October 2

Written and Directed by

Previous Episode

Next Episode

The Regurgitator turns Perry into a rubber duck when he acidentally trips him on the sidewalk downtown. Phineas and Ferb create a complete line of rubber ducks.
Short episode summary
When Perry heads off to Doofenshmirtz Evil Annex, he trips the Regurgitator on acident. Then the Regurgitator uses his forces to make Perry into a rubber duck. Phineas' rubber ducks sell like hotcakes. Jeremy gets one for Suzy and Ferb resvres a rubber duck for Perry, and that rubber duck is Perry. Perry turns back to normal when Baljeet's butt acidentally lands on it. The end
Songs
Running Gags
None
Continuity
The Regurgitator. ("Oh, There You Are, Perry")
Doofenshmirtz Evil Annex ("Toy to the World")
Allusions
The "My rubber Duckys" song is to the tune of Ernie's rubber ducky song from Seasame Street.
Cast
Phineas
Candace
Ferb (Cameo)
Perry
Monogram
Dr. Doofenshmirtz
The Regurgiator
Baljeet (Cameo)
Jeremy
Suzy
Chris McClean (From Total Drama Island)
Stacy
Dr. Hirano
Norm
Mr. Fluffypants
Ad blocker interference detected!
Wikia is a free-to-use site that makes money from advertising. We have a modified experience for viewers using ad blockers

Wikia is not accessible if you've made further modifications. Remove the custom ad blocker rule(s) and the page will load as expected.