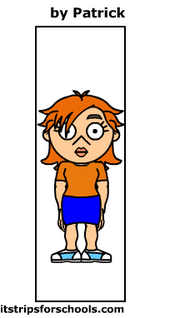 Phinelle (Show version)
Phinelle Nylf (Flynn spelt backwords, sans 1 N) is Phineas's female clone. Like Phineas, she is creative and loves to talk, but she is much more rude. Her first apperance was in "Attack of the Clones Part 2" and she is the sworn enemy of Phineas, but she likes Ferb (like how Isabella crushes on Phineas). She wears a purple and beige shirt a blue skirt and blue-white shoes. She has green eyes and orange-red hair. Her only friend is Ferbette.
Phinelle Flynn is Phineas's female cousin from Ontario, Canada. She is a lot like Phineas, although she does not build crazy inventions. She is looks a lot like Phineas too; orange hair (although it's lighter) blue eyes (different shade) and a triangular head. She has a younger brother, Liam, and two older sisters, Jeanette (who looks like Candace) and Marie-Ann. She wears a pink shirt and a red skirt, along with blue and red shoes and a purple bow (and purple earrings). In the "Team Improable" show that Phineas and Ferb make, her superhero is Catgirl, a catlike superhero. Phineas asked her to come to the Tri-State Area to do this.
Phinelle (Bitstrips version)
Phinelle Flynn is Phineas's female counterpart in an other dimension. She has a step sister, Ferbette and an older brother, Carter. She and Ferbette always create crazy inventions and what-not. Her brother always tries to bust them. She is exactly like Phineas in every way. They share a similar personality, but she likes to look at herself more. She wears a orange T-Shirt and a blue skirt, along with blue and white shoes. Her dad's name is Lenny and her step-mom's name is Lauren.
See also
Ad blocker interference detected!
Wikia is a free-to-use site that makes money from advertising. We have a modified experience for viewers using ad blockers

Wikia is not accessible if you've made further modifications. Remove the custom ad blocker rule(s) and the page will load as expected.