Philipp

Age:

15

Born:

August 3rd, 1994

Hair color:

Orange

Eye color:

Navy Blue

Family members:

Gary(Younger brother) Kevin(Younger brother) Joe(Deceased younger brother) Irina(Mom)

Died:

N/A

First Appearance:

Terrorizers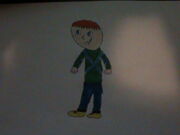 Personality
Nice, though he can be mean when he gets mad. He often has fights with his younger brother, Kevin. He usually gets beat up by Kevin. He was separated from his dad when Gary was born five years after he was.
He's very mean. Sometimes, unlike Bill and Bob, who are basically mean all the time.
Ad blocker interference detected!
Wikia is a free-to-use site that makes money from advertising. We have a modified experience for viewers using ad blockers

Wikia is not accessible if you've made further modifications. Remove the custom ad blocker rule(s) and the page will load as expected.