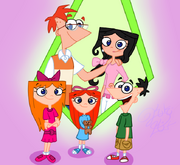 Lynnette Flynn is the second oldest out of Phineas and Isabella's three children. She is one year younger then her older brother, Adrian, and a few years older then her little sister, Julia. Lynnette is very much like Candace, sometimes, not alot in her personality,
Lynnette Flynn
[[|250px]]
Lynnette is the girl on the far left

Born:

N/A

Died:

N/A

Age:

11 or 12 (not confirmed.)

Family:

Phineas Flynn, (dad) Isabella Flynn, (mom) Adrian Flynn, (brother)Julia Flynn, (sister)

Hair color:

Orange

Eye color:

Navy Blue

Profession:

Student, (on vacation)
Her best friend, is Jasmine Patel. Lynnette is a very pratical girl, and very mature for her young age. She tends to be realistic and very calm.
Biography
 Lynette lives in Danville on Maple Drive with her family. She frequently participates in her cousin's invention, assisting in construction and maintaining order. She is considered not only a leader, but a great friend. Lynette is the second and the first daughter of Isabella Garcia-Shapiro and Phineas Flynn, the older sister of julia and younger sister of adrian
Ad blocker interference detected!
Wikia is a free-to-use site that makes money from advertising. We have a modified experience for viewers using ad blockers

Wikia is not accessible if you've made further modifications. Remove the custom ad blocker rule(s) and the page will load as expected.