There are many couples in the Fanon Universe to be listed here.
FerbXGretchen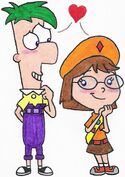 StacyXAlbert
IrvingxKatie
PhineasxIsabella
Debut: Phineas and Isabella's First Kiss
HyperxPhineas
Debut: The New Girlfriend and The New Boyfriend
FerbxGinger
Debut: Diary
CarlxAlice
Debut: Alice pt 2
MattxDaisy
Debut: The Times of Margarita Hernandez, The Dance
IrvingxLiz
Debut: How We Met Liz
CandaceXCain
Debut: Candace's Crush part 1, Candace's Crush part 2
PerryXTori
Debut: VicTORIous!
FerbXCat
Debut: (Unreleased, yet) If life gives you kung-fu fighting wolves...
PerryXLily
Debut: (Unreleased, yet) Hi, from several thousand females.
JennyxColtrane
Debut: Candace's Lie
CarlxVanessa
Debut: Vanessa Moves to Danville; becomes official in Love Problems
Candace and Ryan
Debut: Adyson's Party; becomes official in Love Problems
Daisy and Matt
Official Page: Maisy
Debut: A Blood Red Moon (official)
Debut: A New Platypus on Maple Street (Not officially happened yet)
Juan and Sarah
Debut: TBA
Unofficial Debut: Who Wants to Win a Date With Juan
Mathew and Alicia
Debut: WTPINOS(Unofficially, they are at the crush stage)