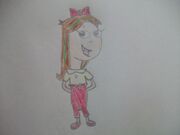 Lilly Fletcher is the daughter of Ferb Fletcher and Vanessa Doofenshmirtz. She has brown hair like her mother with some dark green streaks. Unlike her mother and brother, Davy, she's not goth, but takes on some traits from her Uncle Phineas and Aunt Lana. She wears the same outfit her father used to wear, except she wears pink pants and sometimes a skirt. Unlike Vanessa, (who is goth), she is a "Girly girl" and loves pink. She helps her big brother, Davy with his mute disability. Sign language has always interested her, so using it around the house with Davy is an advantage for her.
Ad blocker interference detected!
Wikia is a free-to-use site that makes money from advertising. We have a modified experience for viewers using ad blockers

Wikia is not accessible if you've made further modifications. Remove the custom ad blocker rule(s) and the page will load as expected.