Johnny
Gender:
Male
Age:
Close to Vanessa's
Professional Information
Profession:
 
Student(on vacation)
Friends and Family
Godparents:
{{{godparents}}}
Behind the Scenes
First Appearance:
 
Dude, We're Getting the Band Together
Voiced by:
John DiMaggio (season 1)
Logan Miller (season 2)
Johnny is a teenage boy who is one of Vanessa's friends. Like the rest of the group, he is a goth. Vanessa seems to take a romantic interest in him, as shown in an episode. In Minor Monogram, Vanessa breaks up with him.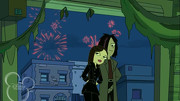 Fanon Continuity
His last name is revealed to be "Darc".
In this user's canon, he is the father of a boy named Jonathon.
Ad blocker interference detected!
Wikia is a free-to-use site that makes money from advertising. We have a modified experience for viewers using ad blockers

Wikia is not accessible if you've made further modifications. Remove the custom ad blocker rule(s) and the page will load as expected.