Professional Information
Profession:
 
Mad Scientist
Behind the Scenes
First Appearance:
 
Phineas and Ferb episode "The Monster of Phineas-n-Ferbenstein"
Voiced by:
Dan Povenmire (USA)
Jekyll Doofenshmirtz is Heinz & Maxwell Doofenshmirtz's great great grandfather who created a machine to turn someone into either a fairy princess or monster.When he finaly got the angry mob to his house he drank the concoction he tuned into a fairy princess.He upsets the platypus monster, and goes to fight him but accidently turns himself into a fairy princess.He then isseen in the shot of him being eaten by the Platypus Monster(The Monster of Phineas-n-Ferbenstein)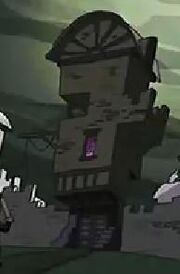 His first name and title as Docter is an obvious parody of Dr. Jekyll.
Ad blocker interference detected!
Wikia is a free-to-use site that makes money from advertising. We have a modified experience for viewers using ad blockers

Wikia is not accessible if you've made further modifications. Remove the custom ad blocker rule(s) and the page will load as expected.