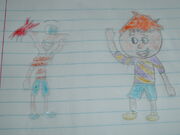 Guitarist Fanatic
250px


Season:

Season 35

Episode:

Episode 1

Cast:

Vincent Martella as Phineas Thomas Sangster as Ferb Alyson Stoner as Isabella Ashley Tisdale as Candace Dan Povenmire as Dr. Doofenshimrtz Jeff "Swampy" Marsh as Major Monogram Dee Bradly Baker as Perry Tyler Alexander Mann as Carl

Guest Starring:

Bob Flyer Bill Kyes Dylan McGlynn
Summary
Phineas and Ferb are sitting under the tree in the backyard when the new kid that just moved in yesterday walks in. Phineas asked, "How did you get in?" and the kid replies, "Your Mom let me in." Phineas asked what his name was and he introduced himself as Gary. He says he is their step-cousin because his mom was originally from Russia. He said he couldn't understand a word she said. Phineas and Ferb introduce themselves and then ask if Gary wants to help them build the world's biggest computer. He says okay, so they go and get supplies from the junkyard. Phineas says that this is where they usually get parts. After they find the parts they go back to Phineas and Ferb's house. After they finish building, they see a guy playing guitar in the road for money. Phineas, Ferb, and Gary go check it out. They throw him some money. After he is done, he says thank you. He also asks is they want to learn how to play guitar. They say yes so he takes them to his house. There he teaches them how to play guitar. They then make a band and have their first concert at the Googolplex Mall.
"Too Young" Line
"Aren't you a little young to play guitar in a band?" -Fan in crowd.
"Yes, yes I am" -Phineas.
"Whatcha Doin'"
Said by Isabella.
Ferb's Line
"Well, he does look like you," said to Phineas.
Ad blocker interference detected!
Wikia is a free-to-use site that makes money from advertising. We have a modified experience for viewers using ad blockers

Wikia is not accessible if you've made further modifications. Remove the custom ad blocker rule(s) and the page will load as expected.