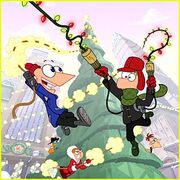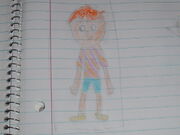 Early Years
Born on October 16th, 1999, Gary was a fun-loving child with a mom and a dad. But all that changed when his mom and dad got in a divorce. Gary went to live with his dad, who got married again and gave Gary a step-mother. For the rest of his days, he has lived with his dad and step-mom.
Ages 5-9
At age 5, Gary went on many adventures. He found snakes in his backyard, built stuff with his dad, all sorts of things. And that went on until he was 9.
Ages 9-10
At age 9, Gary started building stuff by himself. He built a rocket ship, made air guns, all stuff like that. And then his life changed when he met his step-cousins, Phineas and Ferb.
Relationships
Fireside Girls
Katie:
Katie secretly has a strong crush on Gary that no one else knows about. Gary just thinks of Katie as a friend.
Holly:
Normal friendship
Adyson:
Normal
Gretchen:
Normal
Milly:
Normal
Ginger:
Normal
Friends
Phineas- Phineas and Gary are close friends.
Ferb- Ferb and Gary are close friends
Buford- Normal
Baljeet- Normal
Isabella- Normal
Behind the Scenes Information
He also appeared in Phineas and Ferb: The Last Day of Summer and Phineas and Ferb The Movie 2: Balloony Strikes Back.
Voiced by: Dylan McGlynn
He didn't know that he was related to Phineas and Ferb until he met them.
Created: December 16th, 2041
Ad blocker interference detected!
Wikia is a free-to-use site that makes money from advertising. We have a modified experience for viewers using ad blockers

Wikia is not accessible if you've made further modifications. Remove the custom ad blocker rule(s) and the page will load as expected.