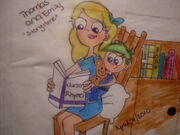 Emily Fletcher is the future wife of Ferb Fletcher in the upcoming story
Phineas and Ferb: A New Beginning
. In this story, Emily gets married to her long love interest
Ferb Fletcher
. She soon has three children named
Thomas Fletcher
,
Elizabeth "Lizzie" Fletcher
, and
David Fletcher
. Before the children are born, Ferb decides to move to England to be closer to Emily's father and so he can be close to Lana and his mother. Also, Ferb got a job at Camp David working for the President of the United States. Emily is pregnant with Lizzie when they move, and she has her in England. And she is pregnant with David when Elisabeth is almost two. Emily has him in England.. Finally, five years later, Emily has her youngest child, Thomas. When the family takes their monthly trip to Danville, unexpectedly, Emily has him there.
Ad blocker interference detected!
Wikia is a free-to-use site that makes money from advertising. We have a modified experience for viewers using ad blockers

Wikia is not accessible if you've made further modifications. Remove the custom ad blocker rule(s) and the page will load as expected.