Constance
[[File:|200px]]


"I am trying to use the quill!"

Gender:
Female
Age:
40
Nationality:
Druelselsteinien
Hometown:
Gimmelschtrump
Friends and Family
Godparents:
{{{godparents}}}
Siblings:
Baldegunde and Stacy
Behind the Scenes
Voiced by:
Ashley Tisdale
Constance is Candace's ancestor. She is the disapproving governess of two small scientists, Dr. Phineastein and Ferbgor. She bears a striking resemblance to Candace Flynn in word and deed, writing in typical teen slang about her crush Jeremiah and ratting on the boys/scientists to an angry mob. There is evidence to suggest she is the object of Jeremiah's affections- until she turns into a monster in a quite accidental turn of events due to Jekyll Doofenshmirtz's machine. She seems to be related to Dr. Phineastein.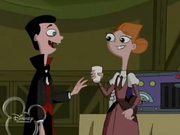 She appears in "The Monster of Phineas-n-Ferbenstein"
Ad blocker interference detected!
Wikia is a free-to-use site that makes money from advertising. We have a modified experience for viewers using ad blockers

Wikia is not accessible if you've made further modifications. Remove the custom ad blocker rule(s) and the page will load as expected.