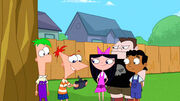 Buford's Birthday

An episode scene

Season

25

Episode

2

Air Date

September 16

Written and Directed by

Previous Episode

Next Episode

Phineas and Ferb give Buford the best birthday gift ever. Dr. Doofenshmirtz tries to destroy all the cupcakes.
Short Summary
Phineas and Ferb arrive at Buford's, right when Dr. Doofenshmirtz reaveals his latest invention to Perry. Phineas and Ferb made Buford the biggest dummy Phineas for him to punch. Ferb made him a Baljeet dummy to punch. Buford was so happy, he took Biff and he started happy crying. The end.
Songs
The Best Gifts Ever! (sung by Buford)
Running Gags
The "Too Young" Line
"Aren't you a little DUMB, to making a dummy me?" -Baljeet
"Yes, yes we are." -Phineas
Ferb's Line
"Yeesh, will he stop crying?!"
Whatcha Doin'?
none
Perry's lair entrance
Perry goes through the microwave.
Background Information
This is Buford's first time crying in Season 25.
This is Baljeet's 2nd appearance in the Season.
Linda is absent in the episode.
Continuity
Buford gets Biff. ("Voyage to the Bottom of Buford")
Allusions
None Seen
Cast
Phineas
Ferb
Candace
Lawrence
Buford
Biff
Monogram
Perry
Doofenshmirtz
Ms. Von Stomm
Baljeet
Other kids
Ad blocker interference detected!
Wikia is a free-to-use site that makes money from advertising. We have a modified experience for viewers using ad blockers

Wikia is not accessible if you've made further modifications. Remove the custom ad blocker rule(s) and the page will load as expected.